What are we talking about?
A Summer University is a summer course offered in most of the cities where AEGEE has an office. These courses have a common basis and prices, being the organisation different for each city.
They are not summer courses like the summer courses that may be organised at your university on a particular subject. If we were to compare it to something you know, the closest thing would be an end-of-year trip. Except for some big differences that you will now discover.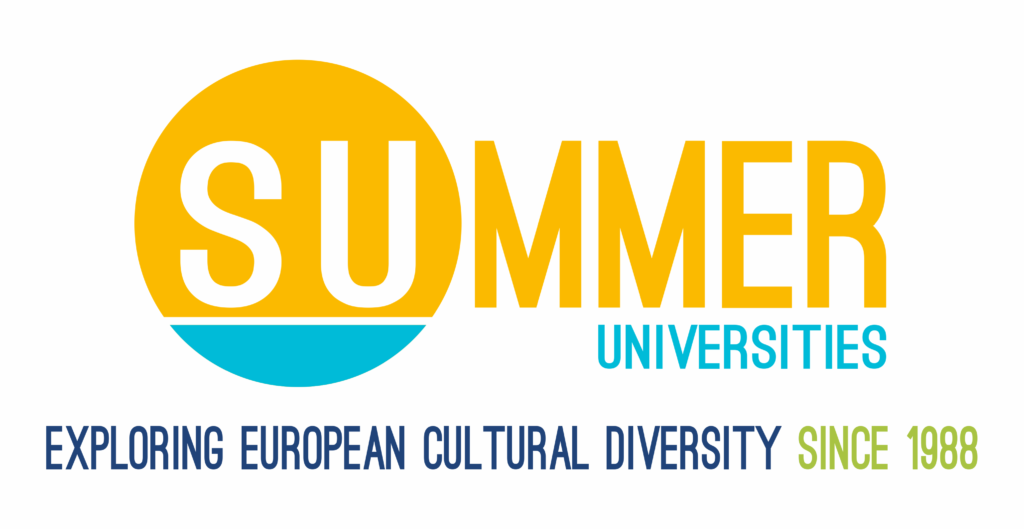 Types of SUs
Summer Course (SC): Course on a specific topic, ranging from local culture and language to environment and politics. Duration: two to four weeks, with at least 14h/week of classes. Themes: very varied.
It includes:
– Language Course (LC). Specific language courses.
– Summer Event (SE). Any theme.
Summer Course plus (SC+): It is practically the same as the previous one, but participants receive a minimum of 20 hours/week of classes, with professionals in the field. They have a wide variety of themes, lasting from 2 to 4 weeks, with more hours than a SC.
It includes:
– Language Course plus (LC+). Language courses.
Travelling Summer University (TSU): Organised between two or more antennae (requirement). Duration: between 2 and 4 weeks. Highly variable themes, usually involving travel from one place to another within the same country or across borders, combining the different lifestyles and cultures of the places visited.
Duration
Between 10 and 24 days (the most common duration is 15 days), between June and September.
Price
The fee to be paid once you are accepted to a Summer University depends on the destination and the year, ranging from €100 to €250; some are slightly more, such as the one that goes all the way across Russia by train, or some can even go below €100.
What is included in the price?
Accommodation for the duration of the event.
Meals: half board (some may offer full board).
Transport throughout the event, entrance fees to places of cultural and leisure interest, emblematic places, activities, museums… and everything included in the programme.
And of course the parties!
What is not included in the price?
Transport (plane, train…) to where the SU takes place.
Activities not included in the programme.
Some SU may offer a single extra activity for a maximum of €40 (e.g. entrance to a water park), which is optional in any case.
Accommodation
It depends on the SU, it's possible to find a different kind of accommodations:
Private: private accommodation (can be in AEGEE members' houses or student flats, for example).
Youth Hostel.
Tent.
Gym.
In any case, if you want to know more specifically what the accommodation will be like, please contact the organisers of the SU in question.
Things to bring
The organisers will tell you. For example, if you're sleeping in a gym, you'll need to bring a sleeping bag and mat or matting. If you are going to a beach destination, swimming costume. If you're going to the mountains, warm clothes, etc.
All SUs organise a night called "European Night", where each participant prepares typical food from their country, or presents a typical drink they have brought with them. Depending on the SU, they will tell you if you can cook there, or if you can just bring some non-perishable food.
What always triumphs if you are Spanish is sangria.
Language
English is the official language of AEGEE. You will have the chance to discover that you know more English than you think!
An SU is better than any 3000€ language course in London, because you will be 24 hours a day with about 30 people from all over Europe, where you will necessarily have to communicate in English! unless there are some more Spaniards around…
Timetable
Each SU has a different timetable.
Participants
The minimum number of participants is 12 and the maximum is 50. 25 is the most common.
They will come from any of the other AEGEE sites across Europe. They will come from any of the other AEGEE sites all over Europe. They will usually not know each other before arriving at the SU, so everybody will be eager to make friends with each other. What characterises AEGEE is that people are very open and there are no prejudices wherever you come from.
Organisation
The SU are organised by students and for students like you, volunteers (AEGEE is non-profit), it is not a travel agency, so you will make friends with the people, you will spend the whole day with them, they will show you the city, they will sleep in your accommodation, you will go out partying with them…
If you are looking for a luxury sun and beach holiday, this is not for you. If you want an unforgettable holiday, with other young people like you, it is.
Motivation letter
You have to write a letter for each place you choose (in the application process you will have to mark three places, in order of preference). In the letter you have to introduce yourself and explain why you want to participate in that Summer University. You have to write the letter in English, unless you know the language of the country you are going to, in which case you can write it in English.
The letter will be the means by which the organisers, once shortlisted, will accept you or not, so be original. Think that the people who will read the letter will be someone like you, so be funny! Don't start your letter with "Dear Sirs and Madam Organisers", because they will throw it in the bin.
A three-line letter is a sure rejection, and so is a two-page letter. Writing badly in English is no excuse; the person reading the letter may know even less English than you do. Write a letter of at least 100 words. That you will buy them a round of drinks if they choose you, that you will dance the macarena (not strictly necessary… :D), that you are capable of partying until 6 and then be up at 8 to go see the Parthenon, that you are super outgoing and love meeting people, mention something about their country that you really like, put a phrase in their language: that's really selling yourself well!
In addition to the motivation letters, each SU organiser can ask some specific questions about their SU (you will see them in the application form). This is to avoid that participants do not read the SU's descriptions.
Oh, before you ask… We're not going to send you a sample motivation letter, that's up to you. We've already done enough work on this website, now it's your turn.
Who organises the Summer Universities?
Each one of the more than 90 SU is organised by AEGEE members in that city, so they are not courses organised by language schools, nor professional companies, they are courses organised by students for students, which are usually very successful because those who organise them know very well what those who participate like. What is very important to know is that this activity is totally altruistic, the organisers receive nothing more than a lot of work for months, with the satisfaction of seeing a group of foreign students enjoying what they have organised, as well as spending 15 unforgettable days with these new friends.
What students pay in membership fees goes entirely to subsidise the activities (both SU and year-round) and information material of the association.
Who can go to a Summer University?
The only requirements to participate in a Summer University are to be a member of AEGEE and to be eager to travel, to meet other people and other countries and of course to have fun.
The ones who make the selection of participants in a specific SU are the organisers of the chosen course. What are they based on? One point in favour is the activity of that member in AEGEE, if he/she has organised or collaborated in any AEGEE activity, but what is more valued is the motivation letter that the interested person writes to the organisers explaining the reason why he/she wants to participate in their course. Taking into account that they are also students, they don't usually like formalities, so the funnier (but sincere) the letter is, the more it will attract attention.
Application
The application is made through the AEGEE-EUROPE intranet in the corresponding deadline (normally April). You can apply for up to three destinations in order of preference. This serves as a first pre-selection phase, where we try to distribute people according to their preferences, trying not to have too many applicants for one place. For each destination you apply for, you should bring a short letter (150 words) of motivation in the corresponding language (in English for most places, except for language courses, Italy and/or Germany, in which case it is advisable to write it in the native language of the organisers). Most applicants are accepted, but there are often cities in high demand that cannot accept all applications. In any case, you can always apply again (when the Open Call comes out) at an SU where there are vacancies.